03 Oct

Top 3 Trails Near Tucson International Airport
Hit Up These Great Loops Within Minutes of Landing in Tucson
TUCSON, Ariz.—If you're looking for great mountain bike trails near the Tucson International Airport (TIA) then you're in luck! These three trails, all within 30 minutes of TIA, will have you enjoying some of the best biking in the state without costing you too much drive time.
1. Fantasy Island Mountain Bike Park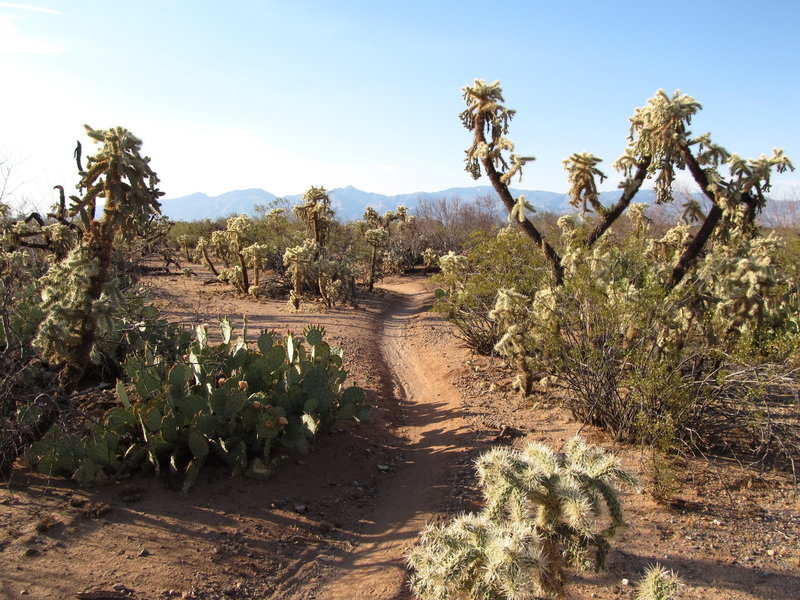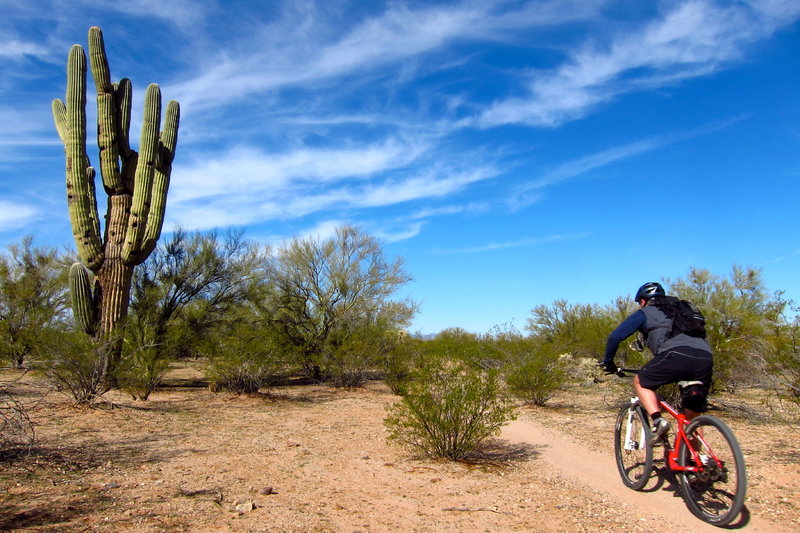 Fantasy Island Offers Versatility and Variety
Just an 18-minute drive from the TIA, Fantasy Island Bike Park is one of Tucson's most popular mountain bike parks for bikers of all skill levels. Fantasy Island is a 26-mile collection of trails with a variety of loops suitable for short and easy rides, and more challenging, long-lasting desert excursions. Trail scenery has a lot of character, includes plenty of "jumping" Cholla cactus (no, they don't actually jump but the barbed sections detach easily and will hook onto clothing and skin with force).

This is not an overly technically challenging trail, but there are technical aspects to consider, including some hairpin turns. Beginner mountain bikers are recommended to be overly cautious and test the waters with the Bunny Loop Trailhead (approx. 5.5 miles).

"This is a classic mountain bike park with a lot of goofy local character," says Dr. James Lunney. Lunney is a winter visitor from Ottawa, Ontario, who often hits up trails in southern Arizona. "I love starting on the Bunny Trail and easing my way into this ride. Fantasy Island is the kind of mountain bike ride where you can make it as challenging as you want. There is plenty of up and down, twists and turns."

Keep your eyes out for old TVs, rusted out cars and bike, dumped furniture, and a lot more as you make your way along the one-way trail—with lots of intersections for bailing out if you need to head back.

Like a lot of mountain bike parks, this trail has no shortage of variety. Go casual and relaxed or get an intense cardio workout. Night rides are popular, too, with many locals hitting the trail once the Arizona sun sets.

Here's a breakdown of trails and approximate length within Fantasy Island: Lone Cactus (6.6 miles), Bunny (5.5 miles), Snake Dance (1.5 miles), Bunny's Revenge (1.5 miles), Rez (1.5 miles), Fire (2 miles), Christmas Tree (1.5 miles), Burro (2.3 miles) and Bo's (1.5 miles). Do them all and you will have advanced our cause 26 miles!

Directions to Fantasy Island Mountain Bike Park
The main trailhead starts at Harrison Road and Irvington Road. Look for a small, paved parking lot on the south side of the intersection. The Southern Valencia "Bunny Loop" Trailhead is on the north side of Valencia Road and Frost Drive. This entrance features a small dirt parking lot. Fantasy Island is a well-used mountain bike trail and local Tucson shredders consider the park incredibly safe and well-maintained. However, always practice caution and lock your car doors and be sure your valuables are out-of-sight.

Pro tip: The ideal mountain bikes for this trail are rigid or front-shock mountain bikes. If you like this trail, Honey Bee Canyon in northwest Tucson for a super scenic, gradual 700-foot elevation gain and spectacular views. Sweetwater Preserve and Gabe Zimmerman Trail are two other great alternatives.

Nearby bike shop:
Ben's Bikes

Mountain bike rentals:
2. Starr Pass Mountain Bike Trailhead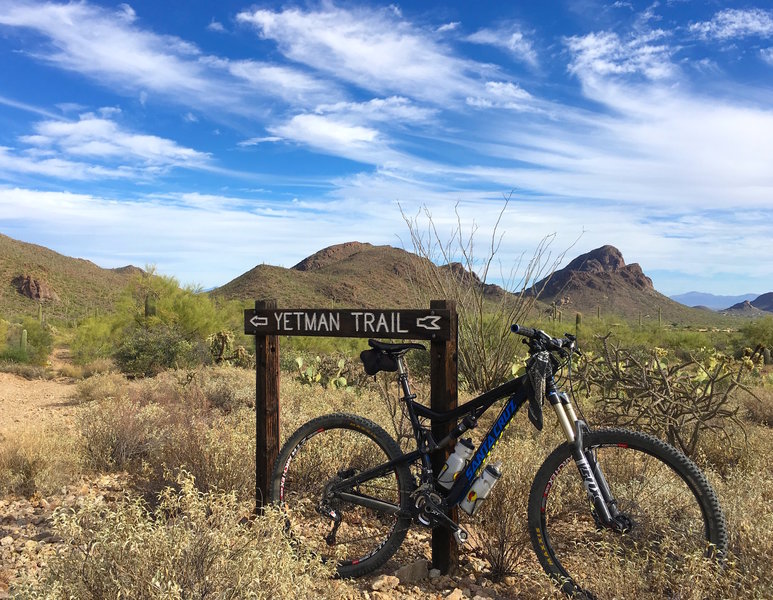 Just 24 minutes from TIA, the Richard E. Genser Starr Pass is one of the most popular intermediate and advanced trails in Arizona. You will be engulfed in drop-dead gorgeous desert scenery amidst the Tucson Mountains. Fast and flowy in some areas, craggy, rocky, and challenging in others, the Starr Pass offers terrific challenge that rewards good decision-making. We do not recommend this trail to beginners. Expect a lot of walking, and bike-and-hike. You'll definitely need a good, full-suspension mountain bike, (though some talented riders prefer front shock). Give yourself plenty of time to explore these beautiful trails. Bring plenty of water; this is not the place to find yourself getting thirsty.
Trivia: Much of the area has been featured in Hollywood westerns, and old Tucson movie studios are just down the street where some classic films were produced.

We like this trail a lot when it is windy, as the mountains create a nice windbreak. Eventually, you will feel like you are biking in massive bowl, as mesas, hills and the surrounding mountains encircle the rider.

"The Starr Pass trail system is a must-do ride when coming to Tucson," adds Lunney. "History, scenery, technically challenging…this is a really well-designed Tucson mountain bike trail and very well maintained."

Directions to the Richard E. Genser Starr Pass Trail Main Lot
From I-10 head west on Saint Mary's Road, which becomes Anklam Road after passing Silverbell Road. Continue west until you reach Players Club Drive. Turn left and head to a four-way stop with Starr Pass Blvd, then turn left. Make first right onto Clearwell Road, (dirt road) take that until it ends at the Richard E. Genser Starr Pass parking lot.
Important: Be sure to Google "Starr Pass Richard Genser Trailhead," as there are two entry ways to Starr Pass.

Pro tip: The nearby Starr Pass Golf Club has a good restaurant and good tap beer and wine and is a safer parking alternative. The golf club is amenable to mountain bikers, especially when they come by for a beer after hitting the trails! Sit outside after a great ride and watch the javelina munch on the grass.

Nearby bike shop:
Mountain bike rentals:
3. Gabe Zimmerman Trailhead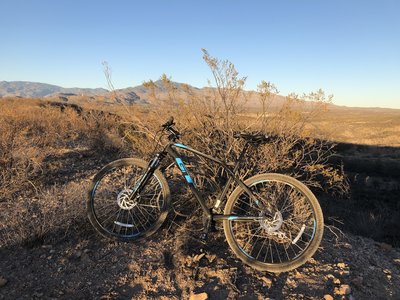 Zimmerman Trail Zips Through Tucson Scenery
Roughly 24 minutes away from TIA, the Gabe Zimmerman Mountain Bike Trailhead is a true Tucson favorite. As part of the 50-Year Trail that extends from Utah to the Mexican border, you can bike for days starting here. Zimmerman offers a fast, fun, endure-style mountain bike ride when turning south on this trail toward Mexico. The southern path is a true Arizonan desert bike ride. Expect to do an out-and-back until you reach a second cattle gate. Zimmerman's north route is a much more technical trail, with rocky ground that heads out to Loma Alta, and then all the way to Hope Camp. For beginner and intermediate riders, we recommend the southern route for its fast, flowy feel with a continuous elevation gain.

"Gabe Zimmerman offers some amazing landscape and is one of the most ideal trails for beginners or those looking for fast cross-country mountain biking," says Lunney.
Parking and directions to Gabe Zimmerman
We suggest inputting Gabe Zimmerman Davidson Canyon Trailhead, Vail, AZ 85641, into your phone or GPS to ensure you don't miss the small parking lot that tends to sneak up on you. Off the I-1o head east on Marsh Station road. Within three miles or so, there will be a small parking lot on the right-hand side. Once you've parked, pedal your way along the south part of this trail to take advantage of the beginner-friendly portion of the route.
Pro tip: If you take this Tucson mountain bike trail south, you'll want to ride rigid or a front-shock model. No need for suspension here unless you plan on going north. Take this trail past Sahuarita Road and continue south until you get to a cattle gate where the trail fades. (It goes to Mexico, but it becomes much more rugged.) As you go south, you will gain elevation and the trail becomes more scenic.
Nearby bike shops:
Mountain bike rentals:
Please follow and like us: